Mobile Companion: GPS Medical Alert Systems for On-the-Go Seniors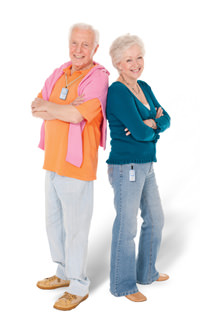 The Mobile Companion is one of the newest and most innovative GPS medical alert systems available. This system uses GPS and cellular phone technology to provide one button access to emergency help. The main advantage of these GPS medical alert systems is that they allow seniors greater freedom as they can call for help anytime and from anywhere. An emergency button quickly connects individuals with an emergency care center using two-way voice technology. The care center specialists can speak with the user, track the user's location, dispatch EMS or emergency help, and relay information to families and first responders.
The Mobile Companion is great for seniors and individuals with cognitive disorders, Alzheimer's, or autism. Like traditional medical alert alarm systems, the Mobile Companion GPS medical alert systems offer the freedom and peace of mind of knowing that help is just the push of a button away with the added benefit of nationwide coverage.
Our GPS medical alert systems offer a variety of great features: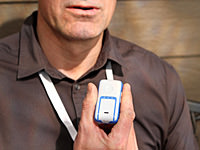 Two-way voice communication through the unit between the user and the help center
Nationwide coverage using GPS tracking and cellular phone coverage so that help is just a button push away no matter where the user is
Low, flat rate monthly fee that includes all data charges and 24/emergency help
Small, lightweight unit that can be carrier in a pocket, worn on lanyard, or clipped to a purse or belt loop
To learn more about the Mobile Companion GPS medical alert systems or to order a system for you or a loved one, contact us today at 855-248-2731.
Benefits of the Mobile Companion GPS Medical Alert Systems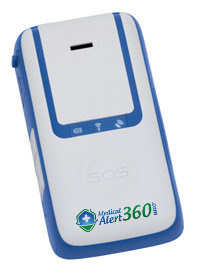 Mobile Tracking: Loved ones can use our GPS medical alert systems for on-demand, real-time location updates accessed via any smart phone or via the web. This gives family members peace of mind knowing that their loved ones are safe at all times. We also send email or text message updates when the Mobile Companion has a low battery or is turned off.
One Button Emergency Help: With just the push of one button, users are connected to our emergency care center via two-way voice communication. Our care center is available 24 hours a day and 7 days a week to provide emergency care and assistance.
GPS Locating Technology: When the button is pushed, our GPS medical alert systems automatically send location data to the emergency care center. Therefore, even if the user does not know his or her location, our specialists can quickly send loved ones, EMS, other emergency responders directly to help.
Contact with Skilled Emergency Care Center: Our emergency care center specialists can communicate directly through the Mobile Companion unit to receive important medical information from the user, which they can convey to emergency responders as they are on the way to help.
Rechargeable & Long Battery Life: Our GPS medical alert system features a long lasting, rechargeable battery. The battery is simple to charge using the included wireless charging pad and lasts up to a week per charge.
Lightweight, Water Resistant Unit: The Mobile Companion unit is small and lightweight, weighing less than 2 oz. It can be worn on the included lanyard, carried in a pocket, or clipped on to a belt loop or purse so that it is easily at hand at any time.
Mobile Companion Compared to Another Leading Competitor
| | | |
| --- | --- | --- |
| Features | Mobile Companion | Other Leading Competitor |
| 2-Way Voice Communication Through Unit | ✓ | ✓ |
| Works Anywhere with Cell Coverage | ✓ | ✓ |
| No Landline Phone Connection Required | ✓ | ✓ |
| 24/7 Real-Time Tracking on Web/Mobile App/Cell Phone for Caregiver | ✓ | ✓ |
| Sends Voice and Location to Call Center Simultaneously | ✓ | |
| Up to 5 days of Battery Life between charges | ✓ | |
| Turn-by-Turn Directions to Device | ✓ | |
| Caregiver/User Can Receive Low Battery/Power Off Alerts via text message and/or email | ✓ | |
| Optional Wireless Charging Pad | ✓ | |
How the Mobile Companion GPS Medical Alert System Works
Using our GPS medical alert systems to call for help is as easy as simply pushing a button.

Order the Mobile Companion GPS Medical Alert System
$149.95 to purchase a Brand New Germ & Disease Free Unit:
$15.00 Shipping and Handling
| | | |
| --- | --- | --- |
| Monthly | as low as $30.95 / Month | |
GPS Medical Alert Systems with Telehealth Monitoring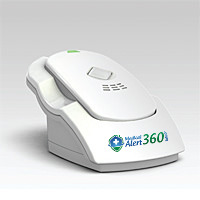 In addition to our basic GPS medical alert systems, we also offer an advanced GPS medical alarm system that provides additional features and capabilities for monitoring your health. This system includes all of the features and immediate access to help provided with our basic GPS medical alert systems as well as even more protection.
This device is classified as a "Personal Health Gateway" as it not only offers mobile medical monitoring anywhere in the United States, but it also integrates a variety of Telehealth and safety features in a small mobile device. This unit can connect through Bluetooth with your existing Telehealth system and send readings directly to your healthcare team.
Features provided in this system include:
Instant Hands-Free Communication with Help Centers
Accurate Fall Detection
GPS Location Tracking
Bluetooth Connectivity with Home Health Devices
The Ability to Send Biometric Readings using the Telehealth Platform
Learn More About Our GPS Medical Alert Systems
If you would like to learn more about the Mobile Companion unit or you would like to purchase a unit today for you or a loved one, call us now at (855) 248-2731.